During the recent Aircraft Interiors Expo 2017, Inter-Informatics Group and Jiatai Aircraft Equipment signed a Memorandum of Understanding to outline a preliminary agreement for future collaboration. This defines Jiatai Aircraft Equipment as II Group's preferential Chinese partner for the C-spacer smart cabin divider project.
The goal is to prepare C-spacer production for the Chinese and East Asian markets at the Jiatai Aircraft Equipment facilities. Both companies intend to explore these markets together. This will include the preparation of CAAC Design & Production Approval, along with joint-marketing to the Chinese and East Asian airlines.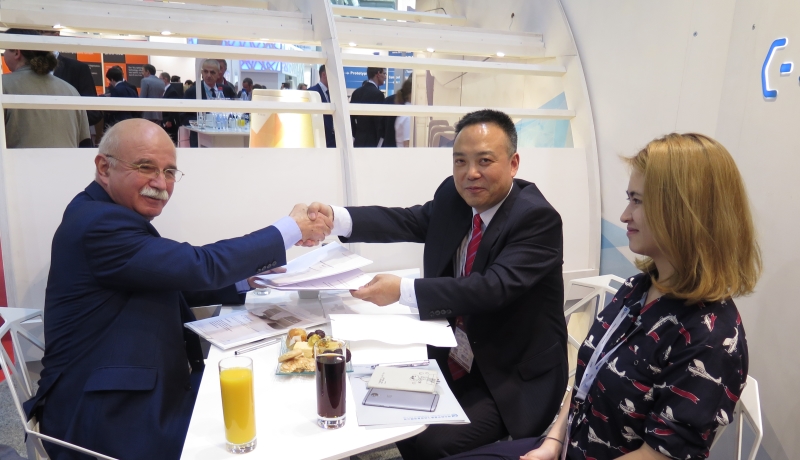 About Inter-Informatics Group
The private engineering company has been operating internationally since 1994 and has expanded into a group of companies in various countries.
Inter-Informatics Group offers design engineering services in the fields of aerospace, railway vehicles and machinery. The engineering team of about two hundred capable, flexible, reliable designers and stress analysts have extensive experience from multiple international projects.
Inter-Informatics holds Design Organization Approval (DOA) EASA.21J.361 with an extensive scope, and is entitled to design and implement STCs, minor changes and repairs.
About Jiatai Aircraft Equipment
Jiatai Aircraft Equipment Co., Ltd is a high-tech enterprise engaged in research and development, production, sales, repair and maintenance of aircraft cabin equipment. It was established in 1995.
Based on aerospace life-support military technology, Jiatai Aircraft Equipment has actively devoted itself to the research and development, and production of civil aviation products. The major products areas are: crew seat, passenger seat, cabin equipment and cabin interior integration of aircraft (commercial aircraft, helicopter, business aircraft and special purpose aircraft) and train (motor train and high-speed train).