Inter-Informatics Group are pleased to announce their presence at AIX 2017.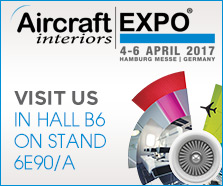 The Aircraft Interiors Exhibition will be held in Hamburg, 4-6 April 2017. Inter-Informatics Group is a first time exhibitor at this show and will be located at the Hanse-Aerospace Pavilion at Stand 6E90/A in Hall B6. "We recognize the Aircraft Interiors Exhibition in Hamburg as being the most important show in our industry and we are therefore proud to be part of it," says Karel Kollert, Sales Director of the Group. "We hope to meet our existing customers and also new potential clients," he adds.
The most visible feature will be C-spacer - a new, multi-functional cabin divider. It is the company's own product and will be presented as a functional prototype at the show. "C-spacer is our internally developed product. As we want to expand, an in-house development of own products is one of the ways to go. We hope to see this part of our business to grow in near future," explains Jiří Poláček, company CEO.