Inter-Informatics Group  are pleased to announce a new class divider that has been developed for the Airbus A320 and Boeing 737 families. "There are almost 3,400 single-aisle aircraft currently in service in Europe with an annual expected growth rate of around 4%. More than 52% of these use two class cabin configuration. And all airlines operating such aircraft strive to balance passenger comfort with space saving and the ability to quickly alter the configuration," explains Radek Režný, aerospace division director. "We wanted to address this and help airlines to be more flexible without compromising passenger comfort," he adds.
Customized Style, Increased Comfort and Simple Maintenance
C-spacer is a new lightweight class divider located beneath the overhead storage compartments and fixed only to seat tracks. Maximum recline of the seat directly in front is uncompromised, while still providing the luxury of extra leg room for the passenger behind. "We have specifically designed C-spacer to bring more comfort to the passenger, while maintaining a 50-inch pitch between business and economy class seats," says Petr Raška, Head of Design Organization and leader of the C-spacer project.
C-spacer is interchangeable between left and right, easy to move, set up and dismantle, enabling quick configuration changes if needed. Airlines can choose from several options; IFE, USB slot, power outlet, or only an advertising panel.  The divider can be manufactured in a variety of colours and surfaces that would easily blend in with any cabin interior. The product's unique composite structure brings the required strength, flammability characteristics and low weight, and meets all applicable EASA (FAA) certification demands.
For more info on C-spacer go to www.c-spacer.com.
Nominated for Crystal Cabin Award
C-spacer has been shortlisted in this year's Crystal Cabin Awards. This "Oscar" of cabin interior design is an independent platform for the industry to promote and honour innovation in aviation worldwide.  The winners will be awarded on the first evening of the Aircraft Interiors Expo (4-6 April, 2017) in Hamburg.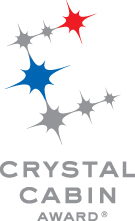 To Be Seen at AIX 2017
C-spacer will be introduced to the public for the first time at the Aircraft Interiors Exhibition in Hamburg from 4-6 April 2017. The product will be presented as a functional prototype at the show.