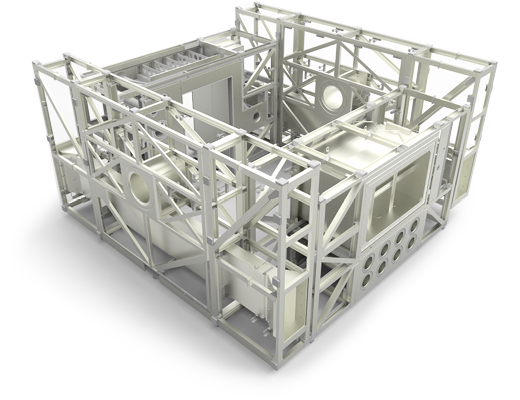 We offer the development of large welding structures like this hot cell assembly for the Jules Horowitz Reactor.
Our expertise includes the design of frame structures, large size welding boxes, turbine sections or shop floor equipment. We carry out 3D design, analysis, 2D documentation as well as reverse engineering.
Nuclear and Thermal Power Plants | Steam Turbines | Compressors and Generators | Cooling Systems and Filter Stations | Piping or Fluid Distribution
Selected projects:

Centrum výzkumu Řež s.r.o. – Hot cells for the Jules Horowitz Reactor
Doosan Škoda Power s.r.o. – Low pressure steam turbines cases
ČKD Nové Energo, a.s. – Industrial compressors, medium and large capacity generators
We carry out the design of cabins, bodies, chassis and electrical systems with special focus to interiors and hydraulic. We offer 3D design, analysis, design optimization and 2D documentation.
Telehandlers | Excavators | Skid-steer Loaders | Trucks
Selected projects:

Doosan Bobcat CZ – Complete development of a new loader generation
Avia Ashok Leyland Motors s.r.o. - Customer required modification of cabin and interior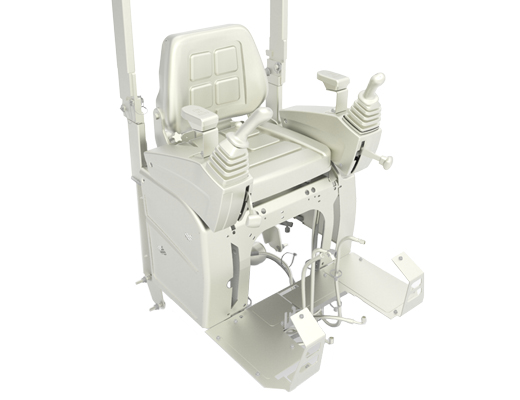 One of our main expertise for utility vehicles is the cabin interior design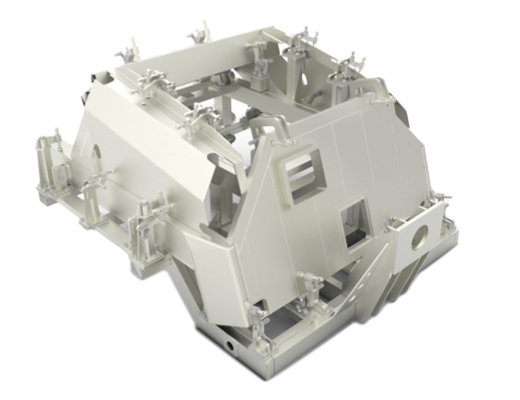 Part of a welding jig for the electrical unit NIM Express cabin
We design welding jigs for steel or aluminum welding of large rail vehicles assemblies. We create repair tools, jigs and molds for the aircraft industry in composite materials. Inter-Informatics offers 3D design, 2D documentation and vendor production or production support.
Welding Tools and Jigs | Drilling Tools | Trimming Jigs | Lamination Jigs | Fixative Tools | Molds
Selected projects:

BOMBARDIER – Welding jigs for the steel car body and roof of the EMU Regio 2N
ŠKODA VAGONKA a.s. – Welding jigs for aluminum car body and bogies of the EMU NIM Express
Aero Vodochody AEROSPACE a.s. – Jigs and molds for aircraft interiors and wings
Our analysis team conducts strength analyses; stiffness and mass optimization of structures in accordance with European standards and customer requests, including certification reports and design support.
Linear & Non-linear Analysis | Simulations of Stability and Buckling Behavior; Modal Analysis | Design Support Including Optimization of Structures | Certification Support | Seismic Load
Selected projects:

ZVVZ  a.s. – Design and evaluation of industrial ventilators, analysis of cracking problems of the frame and lifetime prediction
Centrum výzkumu Řež s.r.o. - FEM calculation and optimization of new structural units for the Jules Horowitz Reactor hot cells
West Bohemia Trade, s.r.o. – Design and evaluation of a gear unit for the extruder Unipetrol, including proposals for gearing and lifetime prediction
Aero Vodochody AEROSPACE a.s. – Strength analysis & optimization of assembly jig for the wing fixed leading edge of the Bombardier C-Series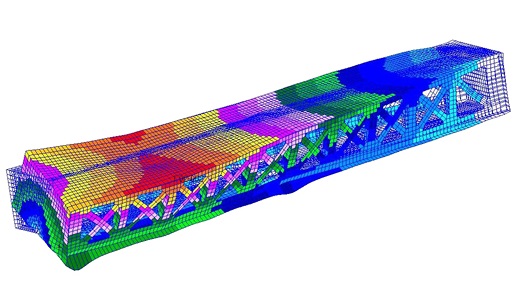 The FEM analysis of an assembly jig base